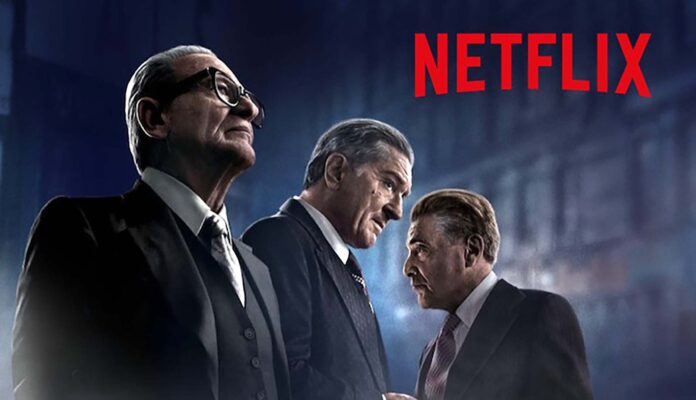 The Irishman di Martin Scorsese è basato sul libro I Heard You Paint Houses del 2004 di Charles Brandt, che descrive nel dettaglio le vicende della vita del mafioso Frank Sheeran. Egli, prima della sua morte avvenuta nel 2003 all'età di 83 anni, ha confessato, tra le altre cose, gli omicidi di Jimmy Hoffa e Joey Gallo, due delle più famose vittime associate al crimine organizzato nel 21° secolo. Dalla pubblicazione del libro, il resoconto di Sheeran è stato pesantemente esaminato dai giornalisti investigativi per accertarne la veridicità del contenuto, più volte messo in discussione. Dal canto loro, Scorsese e lo sceneggiatore Steven Zaillian hanno creato un film prendendo come fatti certi gli eventi della versione raccontata da Sheeran.
Per The Irishman il regista newyorkese torna con i suoi afecionados e con altri attori noti per aver partecipato a film importanti e a serie televisive molto note. Ecco la guida completa al cast e ai personaggi del film Netflix.
Scopriamo interpreti, personaggi e doppiatori italiani di The Irishman
Il cast principale di The Irishman: Robert De Niro, Al Pacino e Joe Pesci

Robert De Niro è Frank "L'irlandese" Sheeran (doppiato da Stefano De Sando): un ufficiale corrotto dell'International Brotherhood of Teamsters, sicario della mafia e personaggio principale di The Irishman. De Niro ha vinto l'Oscar per il miglior attore per il film di Scorsese del 1980 Toro Scatenato. La coppia ha anche lavorato insieme su Mean Streets, Taxi Driver, New York, New York, The King of Comedy, Quei bravi ragazzi, Cape Fear – Il promontorio della paura e Casinò.
Al Pacino è Jimmy Hoffa (doppiato da Giancarlo Giannini): il leader del sindacato International Brotherhood of Teamsters e amico intimo di Frank Sheeran. The Irishman segna la prima collaborazione cinematografica tra Pacino e Scorsese.
Joe Pesci è Russell Bufalino (doppiato da Leo Gullotta): il boss criminale della Pennsylvania per cui Sheeran lavora e con il quale sviluppa un legame stretto. Pesci era già apparso nei film di Scorsese Toro Scatenato, Quei bravi ragazzi e Casinò. The Irishman è la sua prima apparizione dal vivo dal 2010.
The Irishman: cast e personaggi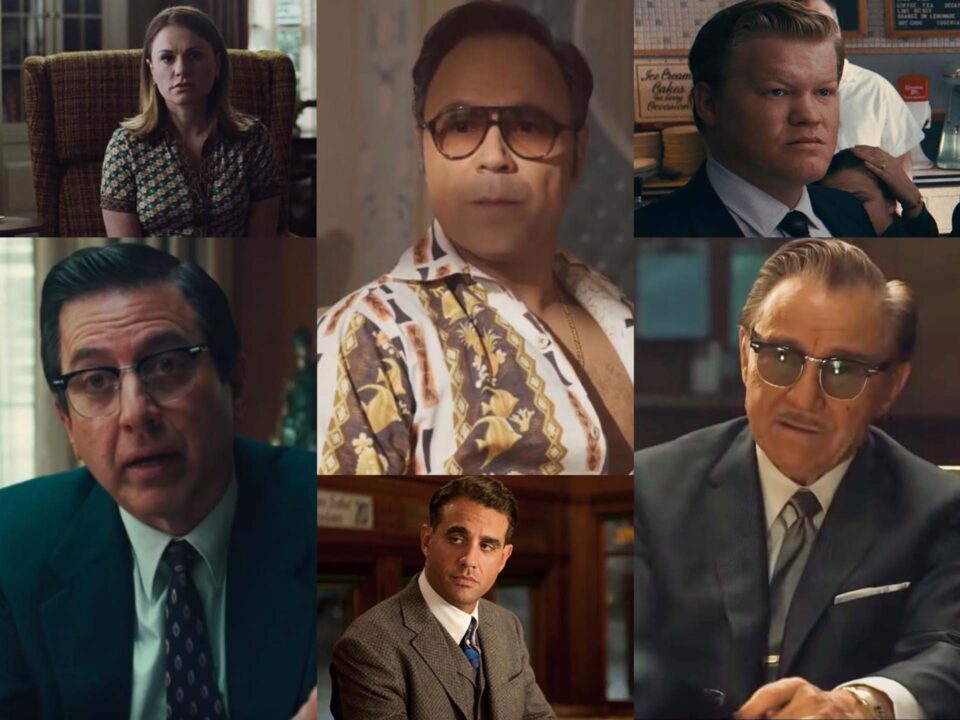 Ray Romano è Bill Bufalino (Davide Marzi): cugino di Russell e avvocato del Teamsters. Ray Romano è stato il protagonista del film della CBS Tutti amano Raymond. Ha anche doppiato Manny della saga L'era glaciale e attualmente interpreta Rick Moreweather in Get Shorty di Epix.
Kathrine Narducci è Carrie Bufalino (doppiata da Laura Boccanera): la moglie di Russell, la cui eredità siciliana rende la sua famiglia "di sangue reale". Kathrine Narducci ha interpretato  Charmaine Bucco nella pluripremiata serie I Soprano ed ha già affiancato De Niro e Pesci in Bronx.
Harvey Keitel è Angelo Bruno (Rodolfo Bianchi): il capo della famiglia criminale di Filadelfia. Harvey Keitel ha recitato nel film d'esordio di Scorsese Chi sta bussando alla mia porta del 1967. Da allora, lui e il regista hanno collaborato per Mean Streets, Taxi Driver e L'ultima tentazione di Cristo. Keitel è anche celebre per aver interpretato Mr. White in Le iene di Quentin Tarantino.
Bobby Cannavale è Felix "Skinny Razor" DiTullio (doppiato da Christian Iansante): proprietario di un ristorante e associato alla famiglia di Filadelfia. Bobby Cannavale ha lavorato con Woody Allen in Blue Jasmine ed ha interpretato Paxton in Ant-Man. Recentemente ha interpretato Colin Belfast in Homecoming e AJ Giles Jr. in Angie Tribeca.
Paul Herman è Whispers DiTullio: chiede a Frank di bombardare il servizio biancheria Cadillac in Delaware. Paul Herman è famoso per i ruoli in American Hustle – L'apparenza inganna, Heat – La sfida, Il lato positivo – Silver Linings Playbook e I Soprano. Ha inoltre già lavorato con Scorsese in Il colore dei soldi e Casinò.
Domenick Lombardozzi è Anthony "Fat Tony" Salerno (doppiato da Paolo Marchese): un esponente della famiglia criminale genovese che suggerisce educatamente che "Jimmy dovrebbe essere calmato". Domenick Lombardozzi ha interpretato Herc in The Wire della HBO. Attualmente recita nel ruolo di George in Mrs. Fletcher.
Sebastian Maniscalco è Joseph "Crazy Joe" Gallo (doppiato da Andrea Mete): un gangster noto per omicidi pubblici ed è al centro di una lunga sequenza slow-motion a metà film che termina con il suo omicidio ad opera di Frank. Sebastian Maniscalco è uno stand-up comedian che ha interpretato Johnny Venere in Green Book
Anna Paquin è Peggy Sheeran: la figlia di Frank. Anna Paquin è famosa per aver recitato nel ruolo di Sookie Stackbouse in True Blood della HBO. All'età di 11 anni, ha vinto un Oscar per la sua interpretazione in Lezioni di piano. Paquin ha anche interpretato Rogue nella serie X-Men.
Lucy Gallina è la giovane Peggy Sheeran (Carolina Gusev): interprete della figlia di Frank da bambina. A sette anni è testimone del pestaggio del suo datore di lavoro ad opera di suo padre ed individua in Russell il male della famiglia. Lucy Gallina ha interpretato Emily Schroeder in Boardwalk Empire.
Stephanie Kurtzuba è Irene Sheeran (Anna Cugini): la seconda moglie di Frank, "Reenie". Stephanie Kurtzuba ha già lavorato con Scorsese in The Wolf of Wall Street.
Aleksa Palladino è Mary Sheeran (Francesca Fiorentini): la prima moglie di Frank. Aleksa Palladino ha interpretato Angela Darmody in Boardwalk Empire.
India Ennenga è Dolores Sheeran: la figlia di Frank. India Ennenga ha interpretato Sofia Bernette in Treme.
Louis Cancelmi è Sally Bugs (Oreste Baldini): un sicario della mafia. Louis Cancelmi ha interpretato Mike D'Angelo in Boardwalk Empire e attualmente interpreta Victor Mateo in Billions.
Stephen Graham è Anthony "Tony Pro" Provenzano (Roberto Stocchi): un capitano della famiglia criminale genovese. Graham ha interpretato Al Capone in Boardwalk Empire, ha anche recitato in Snatch – Lo strappo e in Gangs of New York, diretto da Scorsese.
Jesse Plemons è Chuckie O'Brien (Stefano Crescentini): l'ingenuo figlio adottivo di Jimmy. Jesse Plemons ha interpretato Todd Alquist nella stagione 5 di Breaking Bad e Ed Blumquist nella stagione 2 di Fargo. È anche noto per i ruoli cinematografici in Game Night – Indovina chi muore stasera? , The Master e Black Mass – L'ultimo gangster.
Welker White è Josephine Hoffa: la moglie di Jimmy, "Jo". Welker White ha interpretato Lois Byrd in Quei bravi ragazzi di Scorsese.
Steven Van Zandt è Jerry Vale: il famoso cantante americano che esegue "Spanish Eyes" al banchetto onorario di Frank. Membro della E Street Band di Bruce Springsteen, Steven Van Zandt ha interpretato Silvio Dante nei I Soprano e Frank Tagliano alias Giovanni "Johnny" Henriksen in Lilyhammer.
Paul Ben-Victor è Jake Gottlieb: chiede a Jimmy un prestito commerciale a Las Vegas. Paul Ben-Victor ha interpretato Jose Quesada in Daredevil e Spiros "Vondas" Vondopoulos in The Wire.
J.C. MacKenzie è Jimmy Neal: un procuratore che interroga Ewing King. J.C. MacKenzie è noto per le sue interpretazioni nei film di Scorsese The Aviator, The Departed – Il bene e il male e The Wolf of Wall Street.
Bo Dietl è Joseph Glimco: un gangster che spiega le regole del gioco a Frank durante una scena di sauna a Chicago. Bo Dietl è noto per i suoi personaggi in Quei bravi ragazzi, Carlito's Way e Il cattivo tenente.
Gary Basaraba è Frank Fitzsimmons (Stefano Mondini): vicepresidente esecutivo di Jimmy. Gary Basaraba è noto per i ruoli cinematografici in La tela di Charlotte, Pomodori verdi fritti alla fermata del treno e Suburbicon.
Jim Norton è Don Rickles: lo stand-up comedian che appare dopo la sequenza di Joey Gallo. Jim Norton è uno stand-up comedian che ha interpretato padre Callahan in Power.
Larry Romano è Philip Testa: incontra Frank nel ristorante di Villa Di Roma dopo l'omicidio di Whispers. Larry Romano è noto per i piccoli ruoli in Donnie Brasco e Sleepers.
Jake Hoffman è Allen Dorfman: un uomo dell'assicurazione che aiuta Jimmy con i prestiti. Figlio dell'attore Dustin Hoffman, Jake Hoffman ha interpretato Steve Madden in The Wolf of Wall Street di Scorsese.
Patrick Gallo è Anthony Giacalone: ​​un socio di Tony Provenzano che è presente quando Jimmy chiede riluttante un'approvazione. Patrick Gallo ha interpretato Franco in Boardwalk Empire e Clifford in The Deuce – La via del porno.
Barry Primus è Ewing King: un membro del Teamsters che invoca il quinto emendamento in tribunale. Barry Primus è noto per essere apparso al fianco di De Niro in Sfida senza regole, Il grande match e 15 minuti – Follia omicida a New York.
Jack Huston è Robert Kennedy: l'iconico politico americano (fratello di JFK) che interroga Jimmy sui prestiti durante il processo. Jack Huston ha interpretato Richard Harrow in Boardwalk Empire.
Kevin O'Rourke è John McCullough: il presidente del The Roofers Union, che sostiene Frank durante un banchetto onorario. Kevin O'Rourke ha interpretato Spencer Tracy in The Aviator di Scorsese ed Edward Bader in Boardwalk Empire.
Stephen Mailer è F. Emmett Fitzpatrick: il procuratore distrettuale che è presente al banchetto onorario di Frank. Stephen Mailer è famoso per i ruoli in Cry Baby e Baby Mama.
Gino Cafarelli è Frank Rizzo: il sindaco di Filadelfia presente al banchetto onorario di Frank. Gino Cararelli è famoso per aver interpretato Jeff Aufiero in Big Fan.
Al Linea è Sam Giancana: un boss della mafia di Chicago che aveva la stessa ragazza di JFK. Al Linea ha interpretato Matteo D'Allessio in Boardwalk Empire.
Joseph Riccobene è Jimmy Fratianno: la "donnola" che crea Jimmy. Joseph Riccobene ha interpretato Frankie Yale in Boardwalk Empire e ha lavorato in The Departed – Il bene e il male di Scorsese.
Action Bronson è Coffin Salesman (Non accreditato): Vende una bara a Frank.  Bronson fa il suo debutto come attore in The Irishman.
Iscriviti alla nostra newsletter
Ricevi novità, recensioni e news su Film, Serie TV e Fiction. Inoltre puoi partecipare alle nostre iniziative e vincere tanti premi