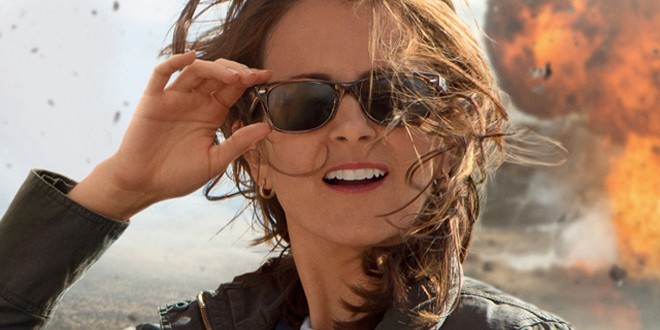 Paramount Pictures ha rivelato un nuovo trailer di Whiskey Tango Foxtrot, diretto da Glenn Ficarra e John Requa, scritto da Robert Carlock e interpretato da Tina Fey (30 Rock, This Is Where I Leave You), Margot Robbie (Focus, The Wolf of Wall Street), e Martin Freeman (Lo Hobbit, Sherlock).
Whiskey Tango Foxtrot: svelato nuovo trailer con Tina Fey e Margot Robbie
Il film è un adattamento del libro di memorie di guerra della giornalista Kim Barker, intitolato The Taliban Shuffle, una dark comedy che racconta le esperienze vissute dalla stessa giornalista in Afghanistan e in Pakistan durante i conflitti: l'opera si concentra soprattutto sul costante paradosso di essere una professionista donna in tempo di guerra in Medio Oriente.
"Per me arrivare a fare un film in cui io volo in elicottero, sparo con armi e fuggo da esplosioni, è davvero un enorme piacere", ha dichiarato Tina Fey, "non sono cose che faccio quotidianamente. Non avrebbe potuto essere un'esperienza più emozionante. Io non dovrei essere qui a fare questo film, dovrei vivere nella periferia della Pennsylvania ed essere un'insegnante di scuola superiore. L'idea di interpretare qualcuno che ha avuto una grande esperienza di vita che non si sarebbe mai aspettato è stata una cosa molto facile per me."
Whiskey Tango Foxtrot è interpretato anche da anche da Alfred Molina ( The Normal Heart, Law & Order: Los Angeles, Spider-Man 2), Nicholas Braun (Get a Job, Ragazzo da parete), Christopher Abbott (1981, indagine a New York, Girls), Sheila Vand (State of Affairs, Argo), Stephen Peacocke (Home and Away, Hercules), Evan Jonigkeit (Bone Tomahawk, X-Men: Giorni di un futuro passato) e Billy Bob Thornton (The Judge, Fargo).
E TU COSA NE PENSI? LASCIA IL TUO COMMENTO
Iscriviti alla nostra newsletter
Ricevi novità, recensioni e news su Film, Serie TV e Fiction. Inoltre puoi partecipare alle nostre iniziative e vincere tanti premi