The Lazarus Effect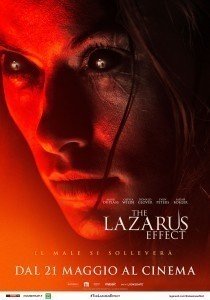 Un Film di David Gelb.
Con Mark Duplass, Olivia Wilde, Sarah Bolger, Evan Peters, Donald Glover, Ray Wise, Scott Sheldon, Emily Kelavos, James Earl, Amy Aquino.
Thriller.
Durata: 83 minuti.
USA 2015.
Notorious Pictures.
Uscita: giovedì 21 maggio.
[divider style="solid" top="20″ bottom="20″]
[highlight color="yellow"]SINOSSI[/highlight]
In The Lazarus Effect, un gruppo di ricercatori, capeggiati da Frank e Zoe fanno un'incredibile scoperta: trovano il modo di riportare in vita i defunti. Dopo aver completato con successo, ma senza autorizzazione, un esperimento su un animale appena morto, il rettore della loro Università viene a sapere dei loro esperimenti sotterranei, il progetto viene improvvisamente sospeso. Tutto il team decide comunque di riprodurre il loro esperimento ma, a causa di un incidente, Zoe, viene orribilmente uccisa. Frank, pervaso dal terrore e dal dolore, li convince a fare qualcosa di impensabile: tentare di resuscitare la loro prima cavia umana. Inizialmente, la procedura si rivela un successo, ma la squadra presto si rende conto che qualcosa non va in Zoe. L'utilizzo su un essere umano porterà a pericolosi e inimmaginabili conseguenze per tutti. Il terrore dilaga in questo horror che vede protagonista la bellissima Olivia Wilde.
[divider style="solid" top="20″ bottom="20″]
[highlight color="yellow"]CLIP[/highlight]
[youtube http://www.youtube.com/watch?v=SO33Rwu7feM]
[youtube http://www.youtube.com/watch?v=EkVLdNWRbKA]
[youtube http://www.youtube.com/watch?v=UrseRvEHYUY]
[youtube http://www.youtube.com/watch?v=nG4nu1DTCWU]
[divider style="solid" top="20″ bottom="20″]
[highlight color="yellow"]FEATURETTE[/highlight]
[youtube http://www.youtube.com/watch?v=RA-Ibg_zrJo]
[divider style="solid" top="20″ bottom="20″]
[highlight color="yellow"]INTERVISTE[/highlight]
[youtube http://www.youtube.com/watch?v=bgQ6-FOSro4]
[youtube http://www.youtube.com/watch?v=LuspRIMmzJI]
[youtube http://www.youtube.com/watch?v=KL5ptveA2BU]