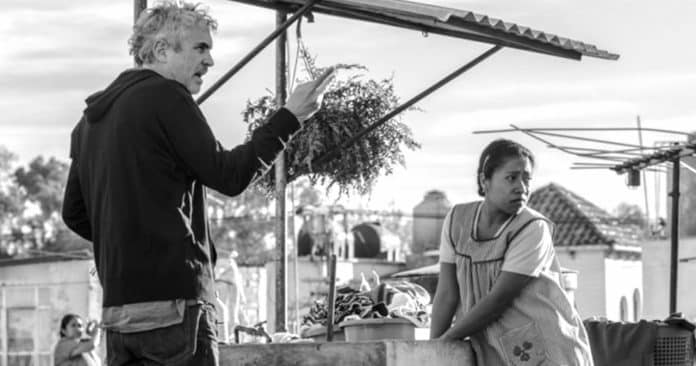 Roma di Alfonso Cuaron vince anche ai DGA Awards e si avvicina a grandi passi verso gli Oscar
Il regista di Roma Alfonso Cuaron ha vinto uno dei premi più importanti alla 71a edizione dei Director Guild of America Awards, battendo Bradley Cooper per A Star Is Born, Spike Lee con BlacKkKlansman, Adam McKay con Vice e Peter Farrelly con Green Book per il premio cinematografico.
Bo Burnham è stato anche tra i grandi vincitori della serata, portando a casa il premio per il primo lungometraggio per il film drammatico Eighth Grade. Era in lotta con Cooper, Carlos Lopez Estrada per Blindspotting, Matthew Heineman per A Private War, e Boots Riley per Sorry to Bother You.
Mentre Cooper ha perso entrambi i premi, altri due attori-registi sono risultati vittoriosi: Ben Stiller e Bill Hader. Stiller ha vinto per la serie televisiva limitata drammatica Escape at Dannemora, mentre Hader ha vinto per la serie comica Barry, di cui è anche il protagonista. McKay non ha vinto il premio per il miglior film, ma ha ottenuto uno dei due migliori premi televisivi della serata: la serie drammatica, per il suo dramma familiare Succession. Nel frattempo, Tim Wardle ha vinto il premio documentario per Three Identical Strangers in una dura categoria contro Will not Be Be Neighbor, RBG e altri.
Ecco l'elenco completo dei vincitori dei Premi DGA:
MIGLIOR FILM:
Bradley Cooper – A Star is Born
Alfonso Cuaron – Roma
Peter Farrelly – Green Book
Spike Lee – BlacKkKlansman
Adam McCay – Vice
SERIE DRAMMATICA:
Jason Bateman – Ozark
Lesli Linka Glatter – Homeland
Chris Long – The Americans
Adam McCay – Succession
Daina Reid – The Handmaid's Tale
FILM TV E SERIE LIMITATE:
Cary Fukunaga – Maniac
David Leveaux e Alex Rudzinski –  Jesus Christ Superstar Live in Concert
Barry Levinson – Paterno
Ben Stiller – Escape at Dannemora
Jean-Marc Valeé – Sharp Objects
DOCUMENTARIO:
Morgan Neville – Won't You Be My Neighbor?
Ramell Ross – Hale County This Morning, This Evening
Elizabeth Chai Vasarhelyi & Jimmy Chin – Free Solo
Tim Wardle – Three Identical Strangers
Betsy West & Julie Cohen – RBG
FIRST TIME FEATURE FILM
Bo Burnahm – Eight Grade
Bradley Cooper – A Star is Born
Carlos Lopez Estrada – Blindspotting
Matthew Heineman – A Private War
Boots Riley – Sorry to Bother You
SERIE COMICA
Donald Glover – Atlanta
Bill Hader – Barry
Hiro Murai – Atlanta
Daniel Palladino – La Fantastica Signora Maisel
Amy Sherman-Palladino – La Fantastica Signora Maisel
Iscriviti alla nostra newsletter
Ricevi novità, recensioni e news su Film, Serie TV e Fiction. Inoltre puoi partecipare alle nostre iniziative e vincere tanti premi